Luna PT
(Legado De Fuego/Le Santo/Freestyle) 2016 RPSI filly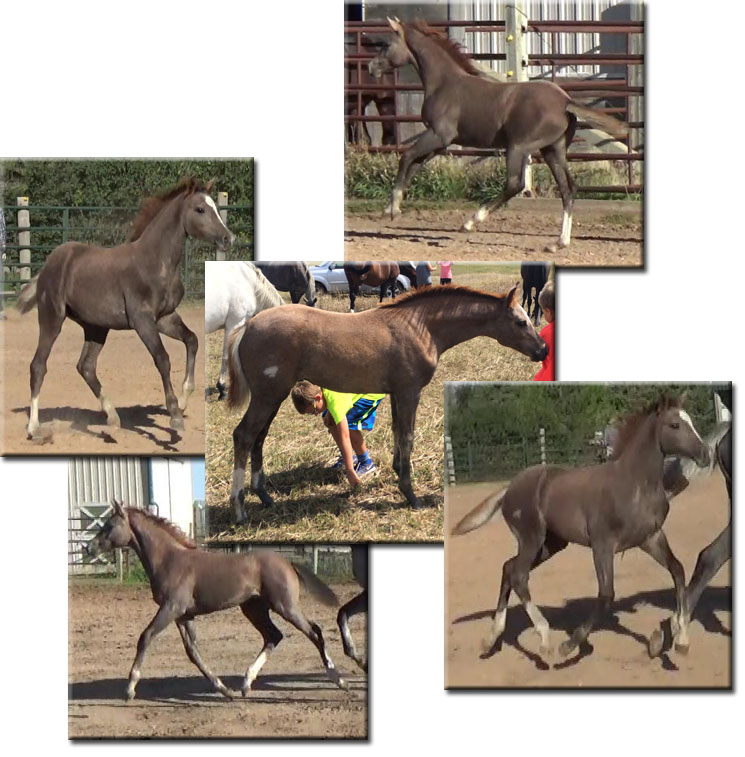 Luna is by Legado De Fuego, the 1999 Holsteiner stallion (Le Santo/Landgraf I/Calme'). In 2003 Legado was one of only three stallions to pass the preliminary approvals for breeding by the AHHA. Plus, he was the only domestically bred stallion to pass! He was presented with the RPSI in Sept. 2002 as a three year old and received impressive scores including a 9 for his canter!!! and 8's for his trot, jumping, and overall impression. He is also approved with the AWS. Along with everything else he carries some wonderful bloodlines including Cor De La Bryere, Calypso I, and he is a grandson of the great Landgraf I.
Luna is out of Fancy PT (Freestyle/Candidus). Fancy earned a very impressive 52.5 points and premium mare status with the RPSI placing her in the top 10% of mares in the nation for 2015! She stands 17h and is by the premium Westfalen stallion Freestyle (Florestan X SPS Paloma) and out of Kamille by Candidus, a producer of 100% premium foals.
As you can see from her pedigree, Luna is bred to be a top class sporthorse with talent in both dressage and jumping. She certainly has the conformation, movement, athletic ability and bold personality to excell. She has such a neat and friendly disposition, she absolutely loves it when my kids, or any kids, come out for a visit. They can hang on her all they want and she just eats up the attention. All of our foals are handled regularly, are trained to halter, lead, pick up hooves, touched all over so they are not ticklish and trained to load in a trailer. They spend their days in around 100 acres of grass pastures with rolling hills, ponds and creeks to cross and drink from and plenty of playmates. She was presented with the RPSI in September and was awarded Gold Premium status! She has a Certificate of Pedigree through them. I expect she'll end up around 16.2h give or take a little. Please scroll down to see Luna's pedigree, more pictures of her and video.
This video was taken in September 2016 at about 4 months old.
This is video taken very informatally for a friend in May 2017 as a yearling.
Price reduction due to drought in the area!!!
Sale Price: $6,500 negotiable

Please E-mail us or call us for more information
Luna PT
2016 RPSI filly
Legado De Fuego
Holsteiner
Le Santo
Holsteiner
Landgraf I
Holsteiner
Ladykiller
XX
Warthburg

Metro

Wildfeuer

Dissert

Foxfyre

Calme'

Calypso I

Irmina

Solid Duchess
XX
Solidan
XX
Freemont
XX
Fancy PT
Premium RPSI mare
Freestyle
Westfalen
Florestan

Fidelio

Raute

SPS Palomina

Parademarsch

Sr. Pr. St. Piroshka

Kamille
1995 Holsteiner
Candidus
Holsteiner
Cor De La Bryere
SF
Petra
Holsteiner
Blossom
Holsteiner
Merano
Holsteiner
Lossa
Holsteiner