Capriole PT
(Chicardo/Cicero/Le Santo) 2021 Westfalen filly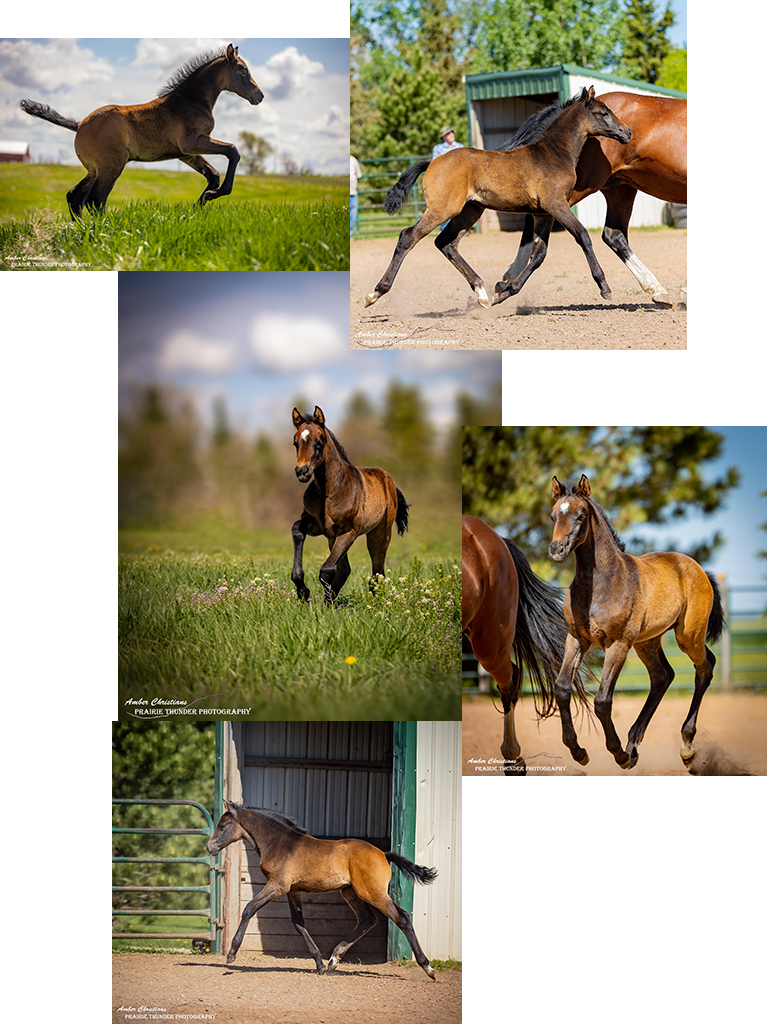 "Capri" is by Chicardo, the 2003 Holsteiner stallion. As taken from his web page linked above "Chicardo was Champion of the 2007 Holsteiner licensing earning 52 bonits and was Reserve Champion of the German FN authorized 70-day Sporthorse Stallion Performance Test (2011) where he received a rare perfect 10 for character and 9.5 for jumping with no gait lower than 8 (128.58 total score). He was Reserve Champion of the 2007 Young Jumper Championship Mid-West Finals and competed up to Grand Prix in showjumping in 2012 and 2013 with Daniel Zilla before retiring to focus on breeding full time. In statistics compiled by the AHHA evaluating Holsteiner stallion production quality, Chicardo leads the list with an astonishing 83% Premium foals (of 24 inspected), with average foal bonits of 8/8, leading both movement and conformation of all 58 qualifying Holsteiner stallions licensed in North America in 2010.
A leading producer of all around sporthorses, Chicardo has over thirty-five (35) USEF competition recorded offspring with at least one actively competing in each of the four show USEF sanctioned disciplines (dressage, jumping, eventing, and hunters) as of October 2014. At the 2013 North American Stallion 70-day test, Chicardo was represented successfully by not one but two sons; both approved for breeding bringing his total to three approved sons.
Chicardo's sire, Clinton, was a top international jumper and ranked among the top WBF jumper sires of the world. Ramiro, Cor de la Bryere, Corrado and Capitol I appear prominently in Chicardo's blood. Dam Mycarda also produced three licensed sons as testament to the quality of his motherline: the "Lord" stamm 1298"
Capri is out of the Holsteiner Bailerina PT. She is out of Cicero, a son of Cor de la Bryere and on her dams side is Le Santo, a son of Landgraf I! So she carries bloodlines of some of the most influencial stallions in the Holsteiner breed and top class jumper bloodlines.
As you can see from her pedigree, Capri is bred to be a top class jumper and I'm sure would do well in hunters or eventing as well. She also has incredible movement to excel in dressage. She certainly has the conformation, movement, athletic ability and bold personality to excel. She was presented with the Westfalen NA and earned premium foal status with wonderful comments and is fully registered! Comments included how wonderful all three gaits are, how well developed she is with lovely bone and conformation. I expect she'll end up around 16.1 - 16.2h. Please scroll down to see Capri's pedigree and more pictures of her as well as video.
This video is from October 25th, 2021 at about 6 months old.
This video is from June 2021 at just under two months old.
Sale Price: $12,000 negotiable

Please E-mail us or call us for more information
Capriole PT
2021 grey Westfalen filly
Chicardo
Holsteiner
Clinton I

Carolus I

Capitol I

Lacq

Waage I

Calypso II

Lorettchen

Mykarda

Corofino I

Corrado I

Valeska IV

Escarda

Redfort

Ticarda

Bailerina PT
2009 Premium Holsteiner mare
Cicero
Holsteiner
Cor de la Bryere
SF
Rantzau
xx
Quenotte
SF
Lagustra
Holsteiner
Liguster
Holsteiner
Damira
Holsteiner
Realeza PT
Holsteiner
Le Santo
Holsteiner
Landgraf I
Holsteiner
Metro
Holsteiner
Kazryn
Holsteiner
Rantares
Holsteiner
Cayla
Holsteiner