Czar's Legend
(Chardonay/Cor De La Bryere/Ladamo) 1998 Holsteiner stallion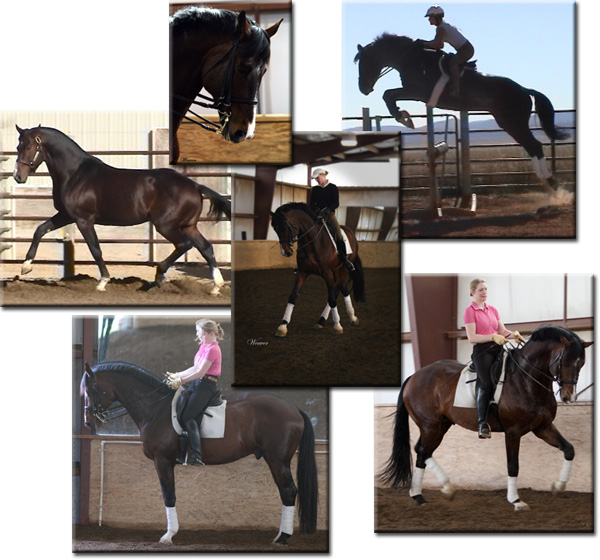 Czar is a 1998 stallion by Chardonay and out of the Holsteiner mare Gwyneth who is by Ladamo. He carries some wonderful bloodlines including Landgraf I and he is a grandson of the great Cor De La Bryere. He also has the legendary Ladykiller three times in his fifth generation. Czar has great athletic ability along with good bone, size, and a wonderful disposition. He stands 17 hands and is a wonderful cross on both WB and TB mares. Czar was schooling PSG in 2011 when his trainer got hurt. He is doing very well, he likes his work a lot and he learns very fast. He is a ton of fun to ride. He also really loves to jump and he has great scope. He thinks cross country is about the greatest thing ever invented! When beginners come and want to have a riding lesson I put them on Czar, he is that trustworthy.
At his first and only in-hand show in June 2005 he was grand champion of the show with an incredible score of 80.2%! The judges comments included things like great manners and he is just a very correct horse. Please scroll down to see Czar's pedigree and more pictures of Czar. Some of the pictures above were taken by Sonya Weaver and some by Scott Burns.
Approved for breeding with:
Rheinland Pfalz Saar (RPSI) book II
American Warmblood Society (AWS)
Videos of Czar's Legend
Czar schooling in November 2010, working on lateral work, changes, half steps and the beginning of pirouettes.
Czar's Legend
1998 bay Holsteiner stallion
241301 1139 98 Stem Q142
Chardonay
Holsteiner
Cor De La Bryere
SF
Rantzau
TB
Foxlight
TB
Rancune
TB
Quenotte
SF
Lurioso

Vestale Du Bois Margot

Oleivia
Holsteiner
Landgraf I
Holsteiner
Ladykiller
TB
Warthburg

Aga
Holsteiner
Fax I

Haselau

Gwyneth
1992 Holsteiner
242301 1126 92
Ladamo
Holsteiner
Ladalco
Holsteiner
Ladykiller
TB
Zala

Karla
Holsteiner
Cor De La Bryere
SF
Erika

Lakeford Lass
Holsteiner
Laredo
Holsteiner
Ladykiller
TB
Wunderbare

Foxfire Fantasy
TB
Many Calls
TB
Nancy Jinks
TB
Czar's Babies