Cimarron PT
(Chacco's Rubin/Chacco Blue/Cicero) 2017 Westfalen NA colt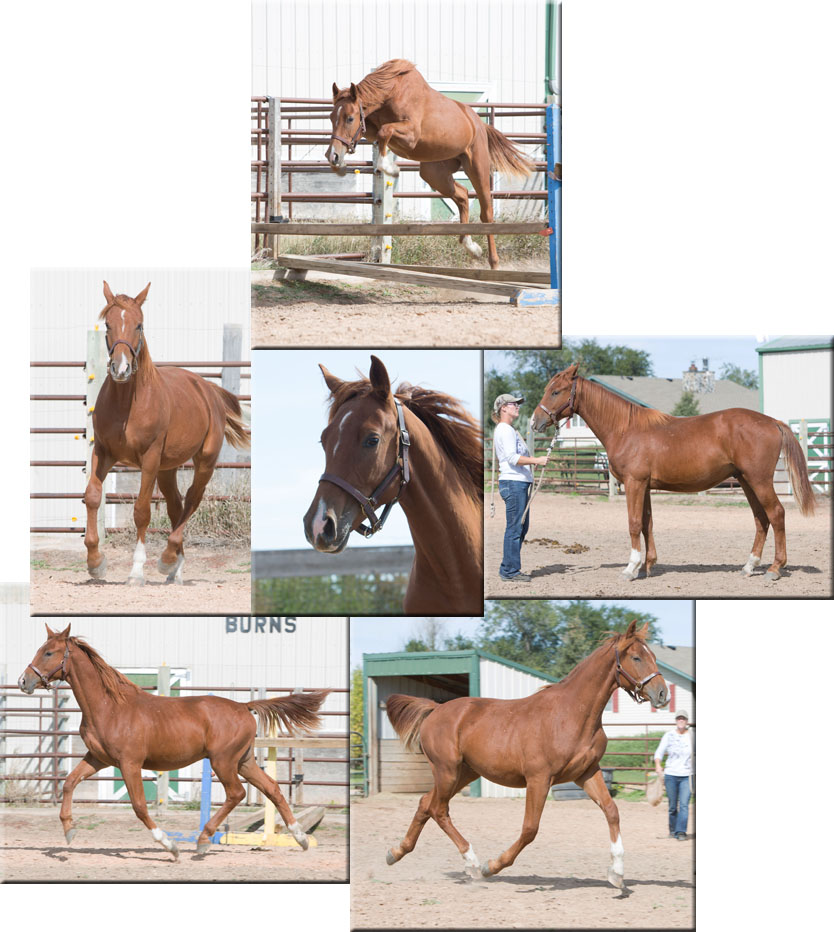 SOLD! Congratulations to Wendy Pohl on the purchase of this amazing gelding! I just know you two will accomplish great things together!
Cimarron is by Chacco's Rubin, (Chacco Blue x Quidam's Rubin x Continue) - 2011 Liver Chestnut Oldenburg Stallion. As taken from his web page linked above "Chacco's Rubin DSF is a beautiful liver chestnut stallion, with a beautiful head, kind eye and lots of expression. He is tall, very leggy stallion, modern in type stallion with a good amount of bone. Chacco's Rubin DSF shows a huge amount of scope and excellent form over fences, and he jumps in beautiful form. Chacco's Rubin DSF has three very good gaits, very elastic with a good hind leg. He is a very well rounded athlete. Chacco's Rubin DSF also displays excellent rideability he loves to work, and is a very kind stallion. He was recently named the Reserve Champion of the 2015 Stallion Test in Oklahoma with high scores across the board. We are looking forward to getting him out in the show ring this year.
Sired by the top jumper stallion Chacco Blue, Chacco Blue was an immensely successful jumping stallion, he quickly established himself as a star from a young age. After winning the jumping index at the stallion performance test, he then went onto win over thirty show jumping classes judged on style and ability, qualifying for the Bundeschampionat and proving to be one of the best of that year. In 2004 at the Bundeschampionat he won the final qualifier with a score of 9.2. Later that fall he went onto jump some spectacular rounds at the Young Horse World Championships in Lanaken, and was again one of the best horses for his age group."
Cimarron is out of the Premium Holsteiner mareBailerina PT. She is out of Cicero, a son of Cor de la Bryere and on her dams side is Le Santo, a son of Landgraf I! So she carries bloodlines of some of the most influencial stallions in the Holsteiner breed. So she traces to top Holsteiner breeding on both her sire and dams side of the pedigree.
As you can see from his pedigree, Cimarron is bred to be a top class jumper. He certainly has the conformation, movement, athletic ability and bold personality to excell. He also has the movement to do pretty darn well as a dressage mount. With his quality I do consider him a stallion prospect. He is very kind and friendly and is always begging for attention. All of our foals are handled regularly, are trained to halter, lead, pick up hooves, touched all over so they are not ticklish and trained to load in a trailer. They spend their days in around 100 acres of grass pastures with rolling hills, ponds and creeks to cross and drink from and plenty of playmates. He was presented with the Westfalen NA in August. He will have full registrations papers through them. I expect He'll end up around 16.2 give or take a little. Please scroll down to see Cimarron's pedigree and more pictures of him as well as a video.
This video was taken in June 2019 as a two year old. This was only his second time free jumping.
This video was taken in June 2018 as a yearling.
This video was taken in September 2018 as a yearling. This is his first time free jumping. I think he needs a bigger fence to really show off but boy does he tuck those knees up nice!
Sale Price: $12,000 negotiable

Please E-mail us or call us for more information
Cimarron PT
2017 Westfalen NA colt
Chacco's Rubin
Oldenburg
Chacco Blue

Chambertin

Cambridge

Desiree VII

Contara

Contender

Godahra II

Aluna

Quidam's Rubin

Quidam de Revel

Helvecia

Alisa

Continue

Adisa III

Bailerina PT
2009 Premium Holsteiner mare
Cicero
Holsteiner
Cor de la Bryere
SF
Rantzau
xx
Quenotte
SF
Lagustra
Holsteiner
Liguster
Holsteiner
Damira
Holsteiner
Realeza PT
Holsteiner
Le Santo
Holsteiner
Landgraf I
Holsteiner
Metro
Holsteiner
Kazryn
Holsteiner
Rantares
Holsteiner
Cayla
Holsteiner