Celtic Comet PT
(Cartier R/Coromino/Riverman) 2017 Wesfalen NA colt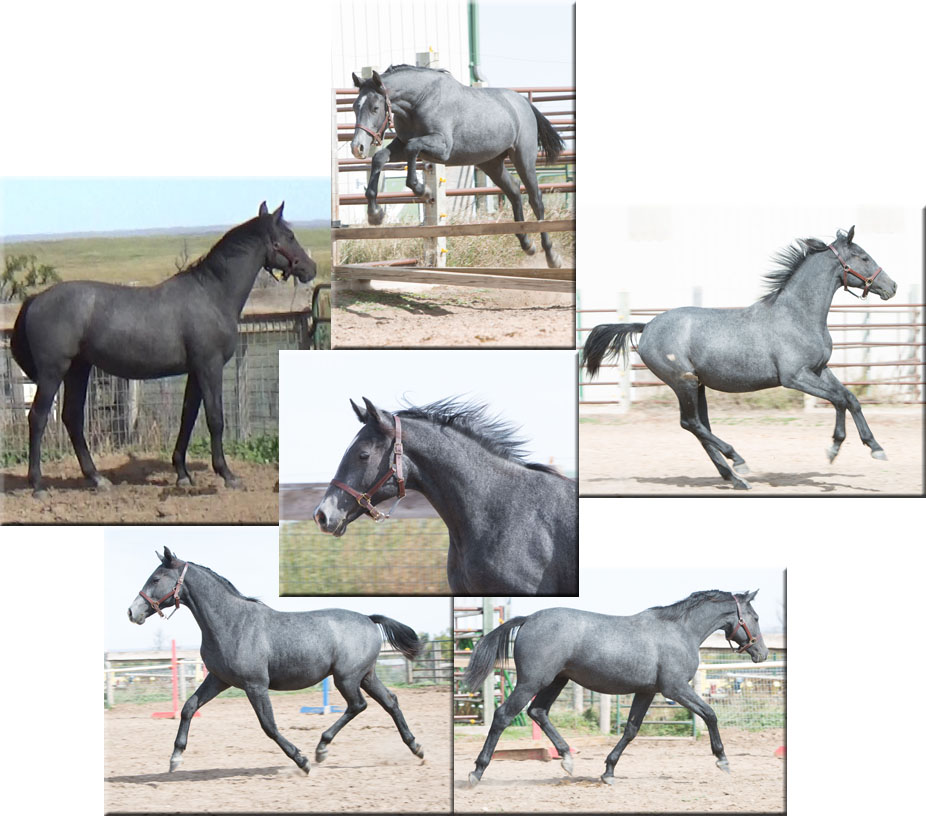 SOLD! Congratulations to Allison Davis on the purchase of this amazing colt! We are so excited to see your future together!
Celtic Comet PT or "Comet" for short is by Cartier R, the 2009 Holsteiner stallion (Cassini I x Acorado). As taken from his web page linked above "Cartier R was imported in 2011 as a 2 year old. At 3, Cartier R was presented to AHHA and with 51 bonits, was the high point stallion. He also received 9's for his scope and willingness. Standing 16.1h, Cartier R exhibits exceptional athletic ability, scope and temperament. In 2013, Cartier R fulfilled and surpassed the performance requirements for his permanent license with AHHA. In 2014, he had great success in the Performance Hunters and National Hunter Derby classes. Placing in his first Derby in a field of 45, Cartier R topped the season winning not only his Performance Hunter classes, but also winning a competitive National Hunter Derby at the Bill Russell Memorial Horse Show.

Cartier R is a direct son of Cassini I. Cassini I is the son of Capitol I, one of the greatest Holsteiner show jumping sires and father of forty approved stallions. With a breeding index of 182, he headed the FN jumping stallion ratimgs. Capitol's dam, Folia, showed great jumping potential and produced the licensed stallions Latus I and II, Capitol II, and famous daughter U- Capitola. Cassini I has been at least as successful breeding, with a series of offspring active in the international sport such as Ingmar, Berlin, Coco, Cavalor Cumano and Carino. Cassini I is highly sought after sire of performance horses throughout Europe and the world.His offspring are in great demand and have proven themselves in the toughest competitive arenas.

Dam Picarda I is by Acorado I who won the 1997 Adelheidsdorf stallion performance test, twice receiving 10s for his exceptional jumping ability. In 1999 and 2000, he won the Bundeschampionat. Acorado I left behind almost 20 approved sons to continue his legacy." You can read more about Cartier R and his very impressive pedigree by clicking on his name at the top of this page.

Comet is out of Contessa PT who also has a very impressive lineup of jumpers in her pedigree. She is out of Coromino who is sired by the Holsteiner stallion Corofino. At the 1992 stallion performance test in Medingen, which he finished in performance rating I, Corofino showed his outstanding jumping ability by scoring a perfect 10.0! Video of Corofino. Contessa's dam sire is the Holsteiner stallion Riverman. As quoted from his page "Riverman was the Reserve Champion of his Holsteiner stallion licensing, where he was titled the top model of the approvals. Riverman stood as a Verband stallion for three years, producing high percentages of premium offspring. After these foal crops, Riverman stood 2nd in the 2000 German FN's Jumping Index and 3rd in the Overall Index for stallions of his age group, due to the success of his offspring in both dressage and jumping competition." To find out more about this wonderful stallion and his pedigree be sure to follow the link above and visit his page at Hilltop Farm.

As you can see from his pedigree chocked full of very influential Holsteiners, Comet is bred to be a top class hunter or jumper with the movement to also do well in dressage. He certainly has the conformation, movement, athletic ability and bold personality to excell. He is very friendly and is always begging for attention. All of our foals are handled regularly, are trained to halter, lead, pick up hooves, touched all over so they are not ticklish and trained to load in a trailer. They spend their days in around 100 acres of grass pastures with rolling hills, ponds and creeks to cross and drink from and plenty of playmates. He was presented with the Westfalen NA in August and was not only a premium foal but was also site champion foal! He will have full registrations papers through the Westfalen NA. I expect he'll end up around 16.1h give or take a little. Please scroll down to see Comet's pedigree and more pictures of him, a video will be added soon. All of our foals pricing also covers the inspection and registration costs as well as board for up to a month after weaning.

This video was taken in June 2019 as a two year old. This was only his second time free jumping.

September 2018 as a yearling. This was his first time free jumping. He shows great ability and technique.

This video was taken in August 2018 as a yearling.

This video was taken in September 2017 at a little over 4 months old.
Sale Price: $12,000 negotiable

Please E-mail us or call us for more information
Celtic Comet PT
2017 Westfalen colt
Cartier R
Holsteiner
Cassini I
Holsteiner
Capitol I
Holsteiner
Capitano
Holsteiner
Folia

Wisma

Caletto II

Prisma

Picarda

Acorado

Acord II

Doreen XII

Hedera

Corleone

Unea

Contessa PT
2009 Premium RPSI mare
Coromino
Oldenburg
Corofino
Holsteiner
Corrado I
Holsteiner
Valeska IV
Holsteiner
Gina Ginelli
Holsteiner
Romino
Holsteiner
Zarah IV
Holsteiner
Star Spangled PT
Holsteiner
Riverman
Holsteiner
Redfort
Holsteiner
Alexis III
Holsteiner
Foxfyre
Holsteiner
Calme'
Holsteiner
Solid DuchessXX