Con Elegancia PT
(Checkmate/Check In/Cicero) 2015 Gold Premium RPSI filly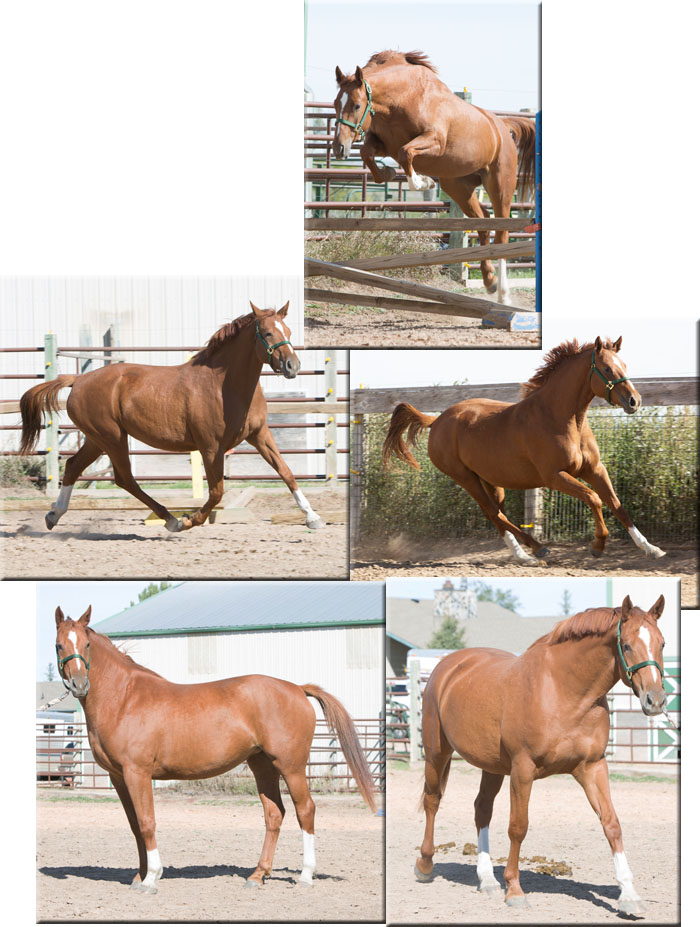 SOLD! Congratulations to Lindsay Holliday on the purchase of this fantastic mare! I can hardly wait to see what you two accomplish together!
"Elly" by Checkmate, the 2009 Oldenburg stallion (Check In x Rio Zeus x Zeus). As taken from his web page linked above "Checkmate is a beautiful typey stallion, with a lovely expression, he is very modern, with correct conformation. Checkmate is a good mover, with 3 good gaits, he has a superb jump, jumping with excellent technique/form,and clearly shows a lot of scope. Checkmate also displays a good temperament, and is very nice to work with.

Checkmate`s sire is the Oldenburg stallion Check In. In 2005 Check In became the OS Reserve Champion Stallion, finished his 30 day test in Redefin with a final score of 9.08 with emphasis on jumping, was awarded the I-b premium in 2007, won a Bundeschampionat qualifier with a score of 9.2 in 2008 and has meanwhile collected ribbons in the international Youngster Tour. Check In's sire Cordalmé Z, was a top performance horse and sire, winning Nations Prizes with Gilbert Böckmann. He sired 13 licensed sons, including Couleur Rubin who placed in World Cups with Ludger Beerbaum, He also sired two Olympic Game participants: Careful in Sydney/AUS in 2000 and Casper in Athens/GRE in 2004, as well as many SPS mares and mare champions. Check In's dam Ilonka (sire Lord Pezi) competed in the 2005 Bundeschampionat Final and Gilbert Böckmann rode her to many victories in show jumping up to advanced (S*) level.

Checkmate recently finished his 70 day test at Silver Creek Farm in OK, USA. He had a very good test finishing 3rd overall in the jumping with a score of 121.18, his Dressage score was 106.96 (6th) and Checkmate finished 6th overall with a 113.36. Some highlights Include Character 9.50, Temperament 9.0, Willingness to work 9.5, Gallop/Canter 8.25, Walk 8, trot 7.5 Free Jumping 9, Stadium Jumping 8.5, Cross Country Jump 8.5, Cross Country Gallop 8.5, Rideability 8."

Elly is out of the Holsteiner Bailerina PT. She is out of Cicero, a son of Cor de la Bryere and on her dams side is Le Santo, a son of Landgraf I! So she carries bloodlines of some of the most influencial stallions in the Holsteiner breed. So she traces to top Holsteiner breeding on both her sire and dams side of the pedigree.

As you can see from her pedigree, Elly is bred to be a top class hunter, jumper or eventing. She also has the movement to excel in dressage. She certainly has the conformation, movement, athletic ability and bold personality to excel. She is very outgoing and friendly with a bold personality, she's not afraid of much. She was presented with the RPSI in September 2015 and was awarded Gold Premium status and champion filly! She has full registrations papers through the RPSI. I expect she'll end up around 16h. Please scroll down to see Elly's pedigree and more pictures of her as well as video.

This video is from August 2018 as a three year old.

This video is of Elly's conformation and a little free jumping from September 2018.

This video was taken in September 2017 as a two year old. Still in a growth a spurt so still rump high. This was her first time ever free jumping, she shows good form.
Sale Price: $12,000 negotiable

Please E-mail us or call us for more information
Con Elegancia PT
2015 RPSI filly
Checkmate
Oldenburg
Check In

Cordalme Z

Cor de La Bryere
SF
Aleska Z

Ilonka

Lord Pezi

Ila

Evita

Rio Zeus

Ramino

St. Pr. St. Cyrenaika

Ejinde

Zeus

Eglande

Bailerina PT
2009 Premium Holsteiner mare
Cicero
Holsteiner
Cor de la Bryere
SF
Rantzau
xx
Quenotte
SF
Lagustra
Holsteiner
Liguster
Holsteiner
Damira
Holsteiner
Realeza PT
Holsteiner
Le Santo
Holsteiner
Landgraf I
Holsteiner
Metro
Holsteiner
Kazryn
Holsteiner
Rantares
Holsteiner
Cayla
Holsteiner