Leannan PT
(Lestat/Lordanos/Coromino) 2016 RPSI gelding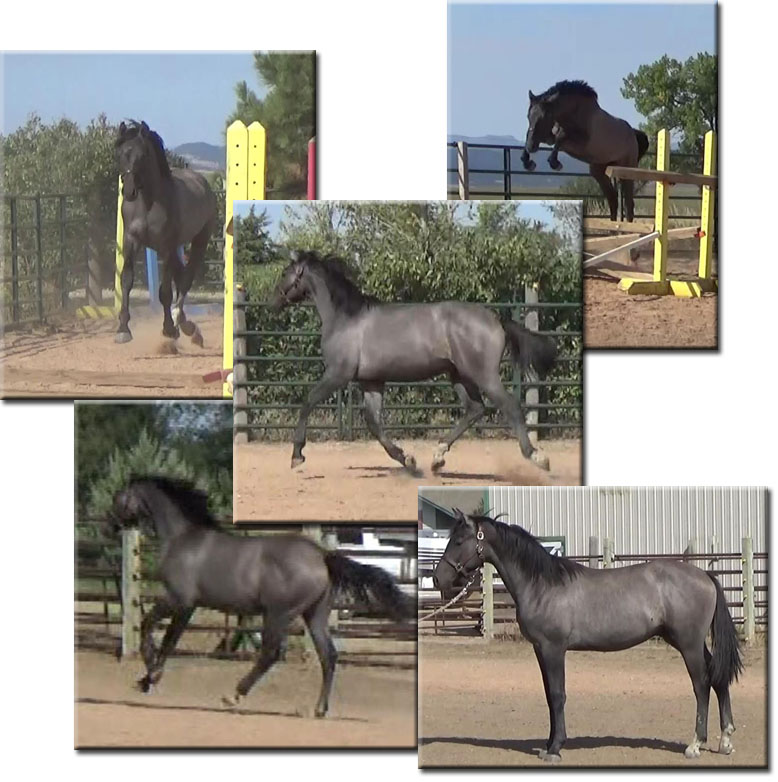 SOLD! Congratulations to Sherrie Boles on the purchase of this spectacular colt!
Leannan or "Lenny" for short is by Lestat, the 2008 Oldenburg stallion (Lordanos x Concetto x Silvio I). As taken from his web page linked above "Lestat will be one of the few Lordanos sons available in North American, on his dam line he carries the very interesting blood of Concetto-Silvio-Figaro. At a young age Lestat as already been a consistent winner in the ring.
Every generation of his pedigree represents a further top stallion: The sire Lordanos was successful in more than 30 young jumping horse competitions (A – M) and reached the final of the Bundeschampionat. Under the saddle of Gerd, Janne and Hendrik Sosath he was successful in the advanced show jumping class. Approx. 30 licensed stallions, several state premium mares in almost every breeding area, the winner of the Bundeschampionat 2004 for six year old jumping horses, Lumos, as well as the Vice-Bundeschampion 2006 and winner of the jumping derby, Lex Lugar/Carsten Otto-Nagel are only examples of his fantastic breeding success.
The dam, Monique, is a daughter of the half-thoroughbred Concetto I, who is also successful up to the advanced level. Concetto I was positioned as breeding stallion in Oldenburg, before he changed to the Netherlands. Silvio I, who appears in third generation produced several premium stallions and winner of the stallion performance test (for example Sir Holtrup, Sterntänzer etc.). His son Shutterfly/Meredith Michaels-Beerbaum was one of the most successful jumping horses. Lestat descends from the traditional Oldenburg family of Stella Virkelys v. Fogra Vendsyssel. " You can read more about Bon Balow and his very impressive pedigree by clicking on his name at the top of this paragraph.
Lenny is out of Contessa PT who also has a very impressive lineup of jumpers in her pedigree. She is out of Coromino who is sired by the Holsteiner stallion Corofino. At the 1992 stallion performance test in Medingen, which he finished in performance rating I, Corofino showed his outstanding jumping ability by scoring a perfect 10.0! Video of Corofino. Contessa's dam sire is the Holsteiner stallion Riverman. As quoted from his page "Riverman was the Reserve Champion of his Holsteiner stallion licensing, where he was titled the top model of the approvals. Riverman stood as a Verband stallion for three years, producing high percentages of premium offspring. After these foal crops, Riverman stood 2nd in the 2000 German FN's Jumping Index and 3rd in the Overall Index for stallions of his age group, due to the success of his offspring in both dressage and jumping competition." To find out more about this wonderful stallion and his pedigree be sure to follow the link above and visit his page at Hilltop Farm.
As you can see from his pedigree chocked full of very influential Holsteiners, Lenny is bred to be a top class jumper. He certainly has the conformation, movement, athletic ability and bold personality to excell. He also has the movement to do pretty darn well as a dressage mount. He is very kind and friendly and is always begging for attention. All of our foals are handled regularly, are trained to halter, lead, pick up hooves, touched all over so they are not ticklish and trained to load in a trailer. They spend their days in around 100 acres of grass pastures with rolling hills, ponds and creeks to cross and drink from and plenty of playmates. He was presented with the RPSI in September and was awarded gold premium status as well as being the site champion colt and overall site champion foal. He has full registrations papers through the RPSI. I expect he'll end up around 16.2h give or take a little. Please scroll down to see Lenny's pedigree, more pictures of him and video.
This video was taken in September 2017 as a yearling. This was also his first experience free jumping. He shows very good ability, form and scope.

This video was taken in September 2016 at about 4 months old.

Price reduction due to drought in the area!!!
Sale Price: $10,500 negotiable

Please E-mail us or call us for more information
Leannan PT
2016 RPSI colt
Lestat
Oldenburg
Lordanos
Holsteiner
Landos
Holsteiner
Lord
Holsteiner
Uta V
Holsteiner
W-Ashley
Holsteiner
Ahorn Z
Han
Sofia
Holsteiner
Monique
Elite
Concetto

Contender

Puszta Lany
xx
Monalisa

Silvio I

Mona

Contessa PT
2009 Premium RPSI mare
Coromino
Oldenburg
Corofino
Holsteiner
Corrado I
Holsteiner
Valeska IV
Holsteiner
Gina Ginelli
Holsteiner
Romino
Holsteiner
Zarah IV
Holsteiner
Star Spangled PT
Holsteiner
Riverman
Holsteiner
Redfort
Holsteiner
Alexis III
Holsteiner
Foxfyre
Holsteiner
Calme'
Holsteiner
Solid DuchessXX
Lenny's foal pictures