Sadelia PT
(Sagnol/Ferro/Beethoven) 2016 Premium Westfalen mare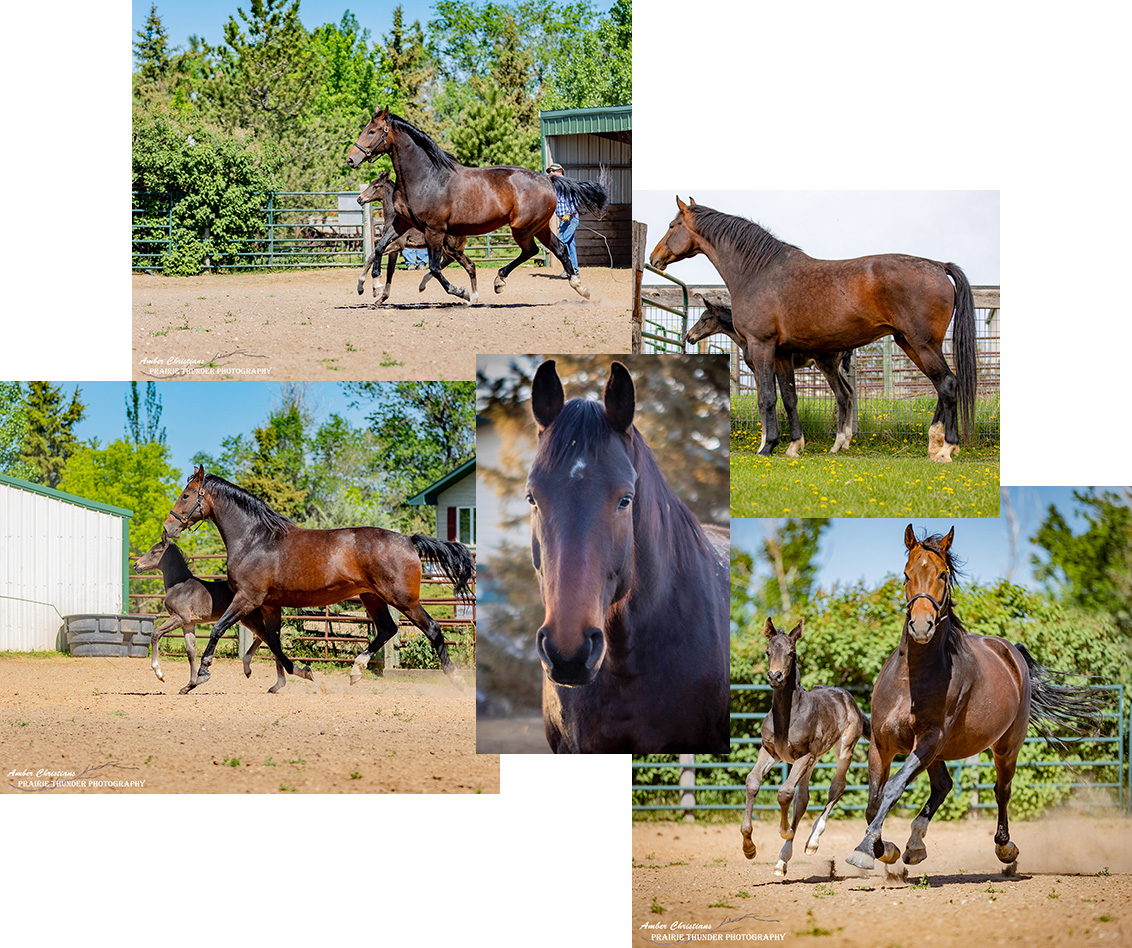 This is Sadie as a four year old. At the time she was in foal to Dheputy with her first foal. She earned her Premium mare status at her Westfalen NA inspection as a three year old! She stands 17.1h and is by Sagnol, 2001 Dark Bay/Brown Oldenburg Stallion - (Sandro Hit X La Belle) and out of the KWPN mare Vadelia, who can be seen on my broodmares page, by Ferro. She boasts two olympic dressage horses on her dams line between her dam's sire Ferro and dam's mother, Kathleen Raine's olympic mount Fedilia by Beethoven. This lady is bred to be a very high level high powered dressage horse. She is very outgoing and bold with lots of energy. She successful raised a very nice colt by Dheputy and at 6 years old is at a great age to get started if someone would like her for a riding horse. She is a slow maturing mare that has really taken this long to reach physical and mental maturity, she is at the point where she is ready to train. She is sensitive, intelligent, curious and energetic. She will require someone with experience to bring her along. She will really enjoy the attention and work. She would not do well stalled all the time, she is always moving and I truly believe she would develop vices if left in a stall. This is a special mare that with the right owner is likely to reach FEI levels or make magnificent babies, or both.
This video is from May 2022 at 6 years old. This was her first time ever even being asked to walk over poles. So we took out time and didn't ask her to do too much. She was a very good girl, tried hard and learned fast. She showed good form with the few jumpes she had to put effort into.
Here is a little more canter footage from out in the pasture on May 17, 2022.
Sale Price: $15,000 negotiable

Please E-mail us or call us for more information
Sadelia PT
2016 premium Westfalen mare
Sagnol
Oldenburg
Sandro Hit

Sandro Song

Sandro

Antenne II

El. St. Loretta

Ramino

Lassie

La Belle

Landadel

Landgraf I

Novella

Prinzess

Fantast

Evira I

Videlia
2002 KWPN Ster mare
Ferro
KWPN Preferent
Ulft
KWPN Keur
Le Mexico
KWPN Keur
Pia
KWPN Keur, Preferent, Prestatie
Brenda
KWPN Ster, Preferent, Prestatie
Farn
KWPN Preferent
Upianne
KWPN Keur, Preferent
Fidelia
KWPN Ster, Crown
Beethoven

Saluut

Ipigona
KWPN Keur, Preferent
Vieni
KWPN Keur, Prestatie
Nepal

Pieni
KWPN Keur, Preferent