Valor PT
(Valentino/Bon Balou/Coromino) 2018 Premium Wesfalen NA colt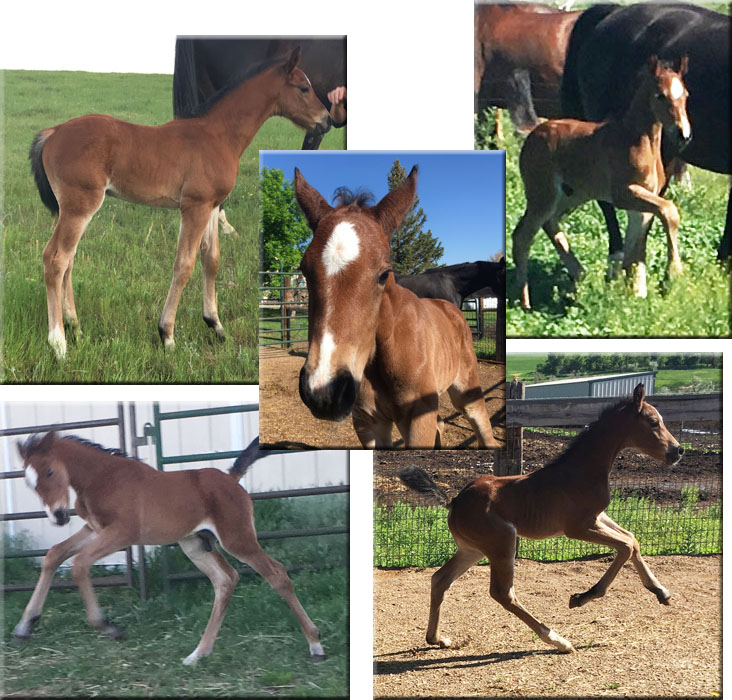 SOLD! Congratulations to Jennifer & Justin Mohler on the purchase of this fantastic colt! We can hardly wait to see what the future holds for you guys. He couldn't have asked for a better home!
Valor PT is by Valentino, 2002 KWPN Chestnut Stallion - (Now or Never x Belisar x Pandoer). As taken from his web page linked above "Valentino is a very striking modern type stallion with a lot of presence and who is also very well known for his intelligent kind nature. A powerful jumping stallion who earned a spectacular 9.6 for jumping ability and 9's for temperament and willingness at the 2005 Stallion Performance Test in Adelheidsdorf, Valentino easily won the jumper division of the test, and was the Reserve Champion overall out of 48 stallions. In the Show Jumping portion Valentino scored 141.47, for the dressage phase he scored a 121.09 and overall Valentino scored an impressive 136.89. Making him an Elite stallion. Following spectacular performances in young jumper riding classes at elementary and medium level with scores up to 9, Valentino then went on to very successfully compete up to advanced S level show jumping under Karen Biermann. In 2012 the pair placed 4th in the Kl.S* in Kemnitz.. Always willing with a great work ethic, with a fantastic bascule and an apparently endless potential, Valentino captivated all those who watched him working.

Valentino is sired by the Dutch bred Now or Never, Now or Never was champion in 's-Hertogenbosch in 1998. He won the finals in the IAN trophy in the KWPN competition in the year 2000. In 2001, Now or Never M placed 7th overall. He was one of the 12 selected KWPN horses for the World Championships at Lanaken in 2001. Now or Never was known for producing very good riding type horses, with excellent quality and outstanding presence. Now or Never's sire is the legendary Nations Cup victor, Voltaire, who needs little introduction to modern sport horse breeding. A winner in the international show ring under Jos Lansink, Voltaire has gone onto to sire his own sport horse dynasty, showing up in the pedigree of many top sport horses world wide. Now or Never M's damline is equally as impressive. He is out of the mare, Imke (Nimmerdor) who is a full sister to the international jumper, Glennwood Springs ridden by John Popely. Imke's sire, Nimmerdor was named the "Stallion of the Century" by the KWPN, and her damsire, Maykel is the sire of the international jumpers Felix ridden by Jos Lanskink and Cavalier ridden by Franke Sloothaak.

Valentino's damsire, Belisar, is most likely responsible for Valentino's wonderful gaits. Belisar won the 1986 KWPN Performance Test in Ermelo with top scores, and since then he has become widely known as a top sire of sport horses in the Netherlands. He passes on his abilities and holds a dressage index of nearly 150. Belisar is also in the damline of top stallions such as Blue Hors Zack. Belisar also brings blood through his sire Saros xx, who comes from

Valentino is not only an impressive jumper himself, he is also an outstanding sire. Out of his first foal crop in 2007, several of his offspring were admitted to the 2007 Hanoverian Spring Auction as Elite foals, and two of them went on to become licensed stallions a couple of years later. His son out of a Stakkato mare was honoured as a Premium stallion and sold for 100,000 Euro. In 2011 stallion son Viscount, was named a premium stallion at his licensing and then sold for 320,000 Euro's. Valentino has produced 3 licensed sons, 32 States Premium Mares/Candidates, as well as 40 foals and 50 horses who have sold through the Hanoverian auctions."

Comet is out of Bella Balou PT who also has a very impressive lineup of jumpers in her pedigree. Bella's sire is Bon Balou the 2006 Elite Hanoverian Stallion (2006-2015) - (Balou du Rouet x Argentinus x Landadel). Bon Balou's sire, Balou du Rouet, first showed his promise on his 30 day test where he gained a score of 9.2 for jumping. In 2005 scored the highest mark of 9.2 at the National Championships, making him one of Germany's top four licensed stallions. He is now competing at 1.50m and is the sire 10 licensed sons to date. Baloubet du Rouet wrote sporting history winning the World Cup finals three times in a row & was the individual Olympic Gold Medalist in 2004 as well as winning team Bronze in Sydney. Bon Balou's damsire is the legendary Argentinus (1980-2007), who was the youngest millionaire among Germany`s top sires and currently third ranked German stallion by the WBFSH. His progeny are successful in both jumping and dressage & incude Arko III, Air Jordan, Amsterdam, Armitage, August der Starke, A Jungle Prince, Albano, Anka & Aleppo. Bon Balou's grand dam, Larika, has also produced a full brother to La Belle, Air Force One (Argentinus), who is jumping 1.40m as a 7 yr old, as well as a licensed Oldenburg. as a licensed Oldenburg stallion Albatros (Acord II). His grandsire sire, Landadel, (1982-1996), is regarded as the most outstanding son of the legendary Landgraf I and carries a double dose of the great stallion Ladykiller.

Bella's dam, Contessa PT, is out of Coromino who is sired by the Holsteiner stallion Corofino. At the 1992 stallion performance test in Medingen, which he finished in performance rating I, Corofino showed his outstanding jumping ability by scoring a perfect 10.0! Video of Corofino. Contessa's dam sire is the Holsteiner stallion Riverman. As quoted from his page "Riverman was the Reserve Champion of his Holsteiner stallion licensing, where he was titled the top model of the approvals. Riverman stood as a Verband stallion for three years, producing high percentages of premium offspring. After these foal crops, Riverman stood 2nd in the 2000 German FN's Jumping Index and 3rd in the Overall Index for stallions of his age group, due to the success of his offspring in both dressage and jumping competition." To find out more about this wonderful stallion and his pedigree be sure to follow the link above and visit his page at Hilltop Farm.

As you can see from his pedigree chocked full of very influential jumpers Valor is bred to be a top class jumper with the movement to also do well in dressage. He certainly has the conformation, movement, athletic ability and bold personality to excell. He is very friendly and is always begging for attention. All of our foals are handled regularly, are trained to halter, lead, pick up hooves, touched all over so they are not ticklish and trained to load in a trailer. They spend their days in around 100 acres of grass pastures with rolling hills, ponds and creeks to cross and drink from and plenty of playmates. He was presented with the Westfalen NA in September and was not only a premium foal but was also site champion foal! He will have full registrations papers through the Westfalen NA. I expect he'll end up around 16.1 to 16.2h give or take a little. Please scroll down to see Valor's pedigree and more pictures of him as well as a video. All of our foals pricing also covers the inspection and registration costs as well as board for up to a month after weaning.

This video was taken in September 2018 at his Westfalen NA inspection.
Sale Price: $12,000 negotiable

Please E-mail us or call us for more information
Valor PT
2018 premium Westfalen colt
Valentino
KWPN
Now or Never

Voltair

Furioso II

Gogo Moeve

Imke

Nimmerdor

Brunhilde

Patricia

Belisar

Saros xx

Sinthia

Wrinza

Pandoer

Orinka

Bella Balou PT
2014 Premium RPSI mare
Bon Balou
Han
Balou de Rouet

Baloubet du Rouet

Georgia

La Belle

Argentinus

Larika
by Landadel
Contessa PT
Premium RPSI mare
Coromino
Oldenburg
Corofino
Holsteiner
Gina Ginelli
Holsteiner
Star Spangled PT
Holsteiner
Riverman
Holsteiner
Foxfyre
Holsteiner