Diamante PT
(Dheputy/Sagnol/Ferro) 2021 Westfalen colt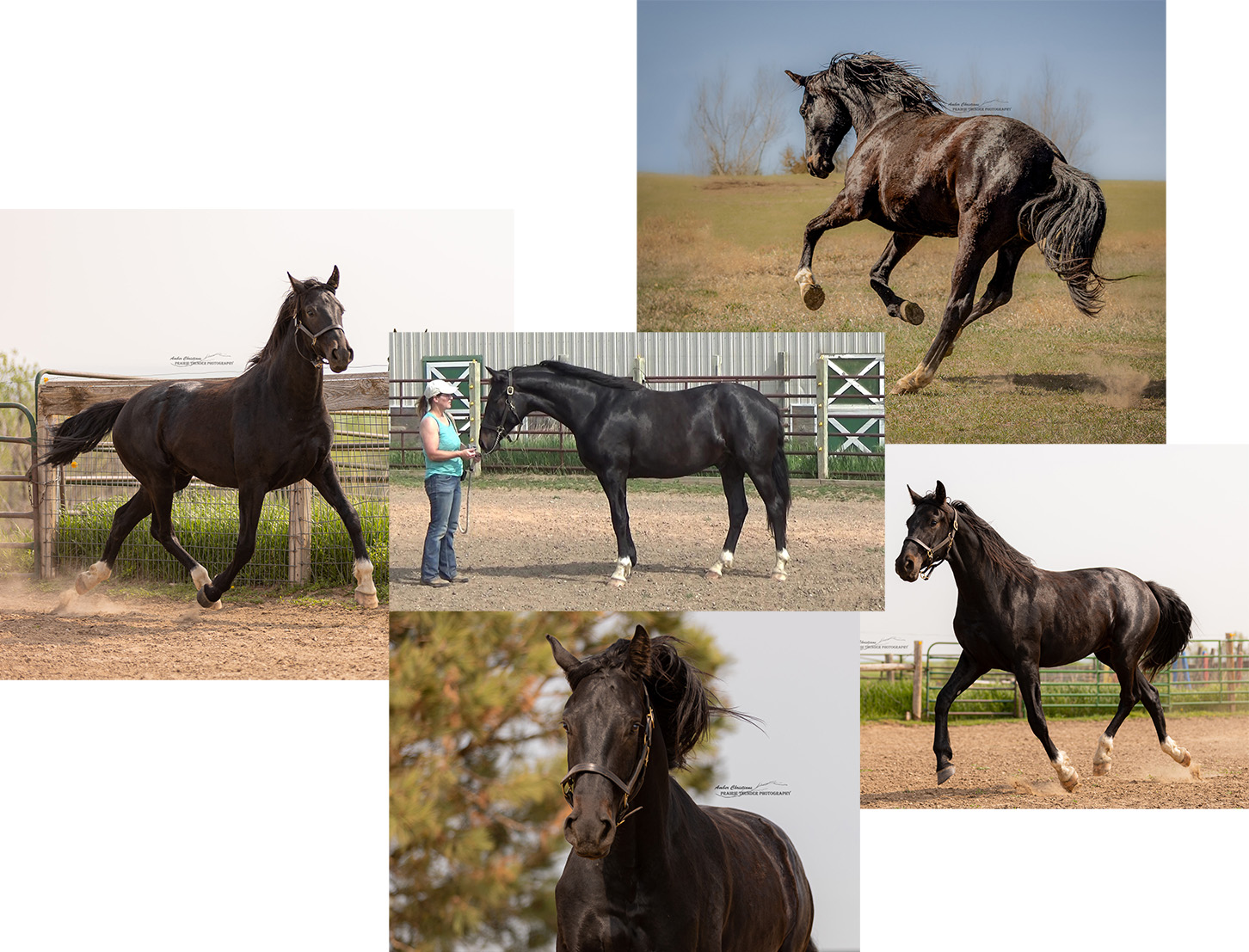 "Monty" is by Dheputy, the 2009 Bay Oldenburg Stallion - (Dauphin x Rotspon x Armin). As taken from his web page linked above "Dheputy is sired by Dauphin, a Donnerhall son who is published in the yearbook of the German FN with positive points for dressage, riding horse points, and foundation. Dheputy's dam is Elite Mare Rhussia, by Rotspon. She has already produced another stallion which was licensed by the AHS, Somer Hit, who has since gone on to be named National Champion FEI 6 year old in 2012, and who in 2014 was ranked 4th USDF Horse of the Year for Intermediate II. In 2015, he competed at Grand Prix successfully.
At Dressage Breed Shows in 2013, Dheputy was named Stallion Champion three times, Mature Horse Champion three times, Grand Champion once and Reserve Grand Champion twice. He also competed in Training level and Materiale classes with scores up to 78.5%. He was the USDF Horse of the Year for Stallions in 2013 with a score of 82.050%. He successfully completed the 70 Day Stallion Test in OK in 2013, placing fourth overall, third in dressage and sixth in jumping. He scored a 10 for Character, 8 trot, 9 walk and 8.5 canter. In 2014, he continued his winning ways, competing at training and first levels with many wins and scores up to 73% and he again was Stallion Champion at three Dressage Breed Shows. He was named 2014 USDF Horse of the Year for Stallions for the second year in a row with a score of 80.750%. He is now schooling third level."
Monty is out of the Westfalen mare Sadelia PT. "Sadie" earned her Premium mare status at her Westfalen NA inspection as a three year old! She stands 17h and still growing and is by Sagnol, 2001 Dark Bay/Brown Oldenburg Stallion - (Sandro Hit X La Belle) and out of the KWPN mare Vadelia, who can be seen on my broodmares page, by Ferro. She boasts two olympic dressage horses on her dams line between her dam's sire Ferro and dam's mother, Kathleen Raine's olympic mount Fedilia by Beethoven. This lady is bred to be a very high level high powered dressage horse. She is very outgoing and bold with lots of energy.
As you can see from his pedigree, Monty is bred to be a grand prix dressage prospect. He has incredible movement, great athletic ability and a sweet outgoing disposition. He was presented with the Westfalen NA and earned premium foal status with wonderful comments, he is fully registered! Comments included how well developed he is, how lovely and uphill his canter is and very good conformation. I expect he'll end up around 17.2h+. Please scroll down to see Monty's pedigree and more pictures of him as well as video.
Monty does have current x-rays on file as of July 2023. These include his feet, fetlocks, hocks, and stifles. Everything is clean except his hocks which indicate he may need maintenance in the form of injections down the road. He is sound, no swelling and negative to flexions. He may never need anything, time will tell. This is why his price is now $8k negotiable down from $12k. For more information or to have your vet look at his x-rays please contact me.
SOLD! Congratulations to Tina Hannah on the purchase of this incredible gelding! We are so excited to see what you two do together, I think it's a perfect match!
This video is from May 25, 2023 at two years old.
Sale Price: $8,000 negotiable

Please E-mail us or call us for more information
Diamante PT
2021 dark brown Westfalen colt
Dheputy
Oldenburg
Dauphin

Donnerhall

Donnerwetter

Ninette

Fabia

Feiner Stern

Papermoon

Rhussia

Rotspon

Rubinstein I

Antalia

Alure

Armin

Eden

Sadelia PT
2016 Premium Westfalen mare
Sagnol

Sandro Hit

Sandro Song

El. St. Loretta

La Belle

Landadel

Prinzess

Videlia
KWPN Ster mare
Ferro
KWPN Preferent
Ulft
KWPN Keur
Brenda
KWPN Ster, Preferent, Prestatie
Fidelia
KWPN Ster, Crown
Beethoven

Vieni
KWPN Keur, Prestatie